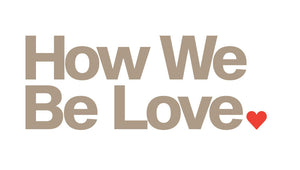 Adriana, please share with us how you Be Love in the world :)
"This is truly 'The American Dream' I followed my passion and put all the love & hard work into creating La Chingona Tacos - my dream street organic taco stand in my town, Topanga Canyon. For sure I'm living my blissful life, harvesting my dreams. I am so grateful for my amazing crew, everyone who has worked and put love and good vibes to make this Taco love a reality. And so grateful for my taco love Familia who support me by eating my nurturing food, it is a win win on every end! I'm a single Mama to 2 beautiful kids and my love for them motivates me to work hard, create magic & live my dream. I Be Love by spreading all this love through my food and bringing the community together..this is real medicine!"
Why did you choose the Be Love design you're wearing?
"I chose Radical Love because I feel it!
Everyday after a taco day, I'm driving home high on love, I know that I'm a blessed person, that I'm doing what I'm supposed to be doing with the people I'm supposed to be with! So grateful to be able to spread my RADICAL LOVE, PASSION AND GOOD VIBES through my FOOD."
You can find out more about Adriana @lachingonatacos